LIBERAL, Kan.—Southern Pioneer Electric's Helping Us Give to Society (H.U.G.S.) program presented the Seward County Extension and 4-H program with a $2,000 donation to help the 4-H'ers with furnishing their new building.
The new building will allow the youth organization to hold various projects such as arts and crafts, cooking, sewing and shooting sports at a central location. The projects were held at various locations around the local area prior to the building's construction, as the group hadn't had a central location for nearly a decade.
Seward County Extension Agent Kylee Harrison said, "The kids are enrolled in different projects throughout the year and once they are in those, they have project meetings. We use many different buildings and meeting rooms in the area, but it was always a 'where was it going to be today' and we had to haul stuff back and forth all the time."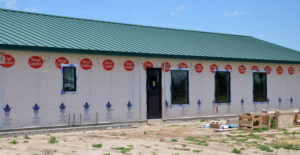 "So this will be really nice having a central location so the kids always know where it will be."
With an overall goal of "making the best better," the 4-H group feels that having a safe and caring environment and location for the youth and leaders to meet will make for a more positive learning experience. The building will also be used as part of the Seward County Extension program in addition to the 4-H activities—adding even more educational opportunities to the county's youth.
With 50 area youth enrolled in 4-H full-time, there are also 70 youth that will attend educational events during the summer months. Both the 4-H and non-4-H youth events will be held in the new building.
Donations are a key part of the groups success, helping the local area youth really make the most of their time with the Extension and in 4-H. The H.U.G.S. donation will help furnish the building with things like stoves, refrigerators and other appliances for its fully stocked kitchen.
"Our budgets aren't huge; we have a fairly tight budget to run off of for Extension and 4-H," said Harrison. "So any donations we receive are amazing and that's really what we function off of."
To get more information on the Seward County Extension programs and 4-H, or to make a donation, please contact Kylee Harrison at kharrison@ksu.edu.
Southern Pioneer Electric Company, a wholly owned subsidiary of Pioneer Electric Cooperative, is headquartered out of Ulysses, Kansas. Southern Pioneer Electric Company has local offices in Liberal and Medicine Lodge, Kansas. Southern Pioneer Electric Company serves approximately 17,200 customers and operates in 10 counties and 34 communities. Southern Pioneer Electric Company's service territory stretches east from Liberal to Medicine Lodge and north to Kingman and back west to Greensburg, Kansas. Southern Pioneer Electric Company is dedicated to providing customers with safe and reliable electric service. For more information about the H.U.G.S. program, please contact Vice President of Energy Services, Anita Wendt. (Phone: 620.424.5271 and E-mail: awendt@pioneerelectric.coop)