Joining their peers from Kansas, Oklahoma, Colorado and Wyoming, high school students Chris Hernandez (Southwestern Heights) Makalah Henke (Medicine Lodge) and Brian Martinez (Liberal) developed leadership skills at the 41st annual Cooperative Leadership Camp in Steamboat Springs, Colorado, from July 14-20. Approximately 100 youth learned about the cooperative principles at the week-long educational retreat.
Chris, Makalah and Brian began their adventure meeting campers as the rode across the plains. When the bus arrived in Denver, Colorado, they were treated to a snorkeling experience at the Denver Aquarium where campers swam face-to-face with a school of cownose rays, moray eels, nurse sharks and 400 other exotic underwater species.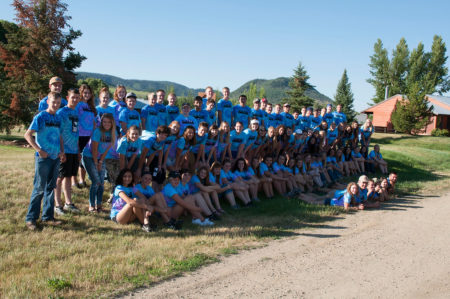 The group then arrived at Glen Eden Resort and immediately began forming friendships through various activities. Several demonstrations and presentations introduced students to the cooperative model and the reach of cooperatives throughout their communities. Campers competed to build a model transmission line out of craft supplies, formed their own candy cooperative, held daily membership meetings, toured Trapper Mine and Craig Power Plant, checked out a solar array and experienced a high-voltage safety demonstration. The campers also raised $390 to donate to the NRECA International Foundation.
"It was cool to see how much cooperatives do for our communities," said Hernandez. "You really start to appreciate all that they do."
Henke said, "I learned that people can become closer as they work together. It was very cool seeing all of us grow so close in such a short amount of time."
The week-long experience also gave participants an authentic camp feel with river rafting, a volleyball tournament, swimming, a dance and a talent show. In between activities, campers had the opportunity to hangout and meet one another.
"I will always remember the friendships I've made and will continue to treasure them forever," said Martinez. This camp is the true definition of creating bonds beyond friendship and becoming a family."
This was Martinez's second year at camp. Last year, he was selected to attend the camp for Southern Pioneer Electric. Martinez was then elected by his peers to return as an ambassador of the program for 2017. As an ambassador, he was a junior counselor, facilitated camp leadership activities and acted as a role model for the incoming campers.
"It was awesome to see the campers become great leaders by coming out of their comfort zone," said Martinez. "It was a privilege to help guide these campers to become amazing leaders."
Preparations for next year's Youth Leadership Camp are well underway. Southern Pioneer Electric will open up applications for the 2018 Youth Tour this fall. Sophomores and juniors who attend Ashland, Cunningham, Fowler, Kiowa County, Kiowa South Barber, Liberal, Medicine Lodge, Minneola, Satanta, Skyline, South Central, Southwestern Heights and Sublette high schools are encouraged to apply.
"The Youth Tour program, whether it is the Washington, D.C. trip or the leadership camp in Steamboat Springs, Co., is a life changing experience for sophomores and juniors," said Energy Services Coordinator Dee Longoria. "They leave for the trip feeling apprehensive and excited and come back sharing with us all the wonderful things they learned about our country and electric cooperatives. They have a deeper appreciation of our country and learned about how the cooperative model works. Oftentimes, we see past winners become involved in leadership roles in their community, state and local government."
Additional information regarding Youth Tour and other programs offered by Southern Pioneer Electric is available online here.