At Southern Pioneer Electric, we truly care about our consumers and want to meet all of your needs and expectations. So the question is, are you getting the service you expect and deserve?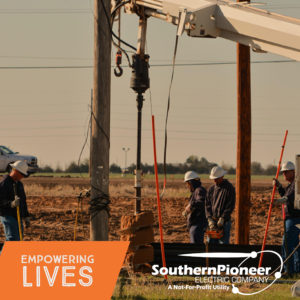 We would like to provide you with some highlights of being a Southern Pioneer Electric consumer with information such as average rates, outage times and where your money goes when you pay your electric bill.
What follows are just some of the ways Southern Pioneer Electric tries to empower your life.
Rates are necessary to ensure Southern Pioneer Electric's ability to provide our consumers with the highest level of safe and reliable service. As part of our goal to empower our consumers, we hope to provide a crash course in navigating and comprehending your electric rates.
Southern Pioneer Electric's rates for 2015 averaged at $0.11 a kilowatt hour, compared to the national average of almost $0.13. In the state of Kansas, the average cost was $0.12 per kilowatt hour according to the U.S Energy Information Administration. Our consumers have the benefit of paying some of the lowest rates in the state!
When designing rates, Southern Pioneer Electric considers numerous factors that affect our total cost to deliver electricity, or the cost-of-service (COS), to our consumers. This COS includes construction and maintenance of our distribution poles and 1,120 miles of line, distribution of electricity to our 16,971 meters and our total utility plant expenses– employees, building, maintenance, fleet vehicles and equipment – the things that make sure we can provide you with the reliable service you deserve.
While Southern Pioneer Electric's distribution expenses play a role in determining the overall rate, the majority of the retail rate charged is dictated by the current cost of wholesale energy. Wholesale energy is the energy Southern Pioneer Electric purchases for consumers. This wholesale power cost can contribute up to 75 percent of the total retail rate.
At Southern Pioneer Electric we strive to provide you with the best and most reliable utility service possible. We understand that when the lights go out, it can make your daily life difficult.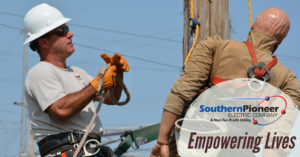 With the use of advanced metering technology, better communication and quicker response times, Southern Pioneer Electric prides itself on reliable utility service.  From 2010-16, our consumers were without electricity for only an average of five hours per year.
One line item on your bill is the Energy Cost Adjustment (ECA).  The ECA reflects the increases/decreases in the cost of wholesale energy purchased. The fluctuation in the ECA is largely caused by changes in the cost of generating the power.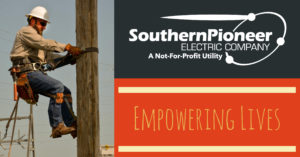 The ECA reflects the difference between actual costs for energy and the energy costs that were built into base rates. This charge changes monthly to accommodate fluctuations in wholesale power costs.
Southern Pioneer Electric's cost of wholesale power is now more than 75 percent of total expenses, so it's critical that the Southern Pioneer Electric makes sure that it recovers all of its wholesale power costs in its retail sales. The cost is collected from consumers through the energy charge and the ECA.
The ECA gives Southern Pioneer Electric the ability to manage ongoing energy cost changes without having to make frequent changes to the base rate structure. It also ensures that Southern Pioneer Electric collects no more and no less than the actual cost of wholesale power.