SPECO Scores 86 on ACSI
Recently, Southern Pioneer Electric (SPECO) contracted a third party to conduct a consumer satisfaction survey—something SPECO does every several years. This year, SPECO is proud to announce that we received an American Consumer Satisfaction Index (ACSI) score of 86 and a retention rating of 80 percent.
The ACSI is an economic indicator that measures the satisfaction of consumers across the entirety of the US economy. This score is used across all industries, from hotels to fast food restaurants, to retailers and utilities.
What does an ACSI score of 86 mean? Well for starters, it means that SPECO is well above the national average for electric utilities. That includes cooperatives, municipals and investor-owned utilities.
While SPECO is not itself a cooperative, it is a wholly-owned subsidiary of Pioneer Electric which is a cooperative, hence why it is graded in that category. That score of an 86 also puts SPECO in the top 71st percentile of all cooperatives, which as a whole tend to score higher than other types of utilities in the industry.
As mentioned earlier, the ACSI score can give consumers an idea of how a particular business stacks up not only against other members of that industry, but across all industries. Some examples in 2017 were Cracker Barrel scored an 84, Nike a 79 and Apple an 81. Below is a more general list of where SPECO's 86 would put them compared to some other names you may recognize: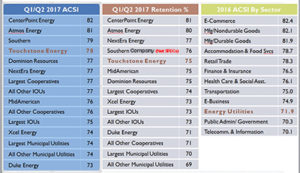 The other important score provided by the ACSI is our retention rate. With a retention rate of 80 percent, SPECO is among the industry leaders when it comes to that statistic. The retention rate refers to how many people, if given a choice, would still choose SPECO over other utilities to be their service provider.
While SPECO's ACSI score of 86 was several points higher than our 2012 score, we understand there is always room for improvement in certain areas. That's why SPECO will continue to find better ways to provide our consumers with the world-class service they deserve and expect.