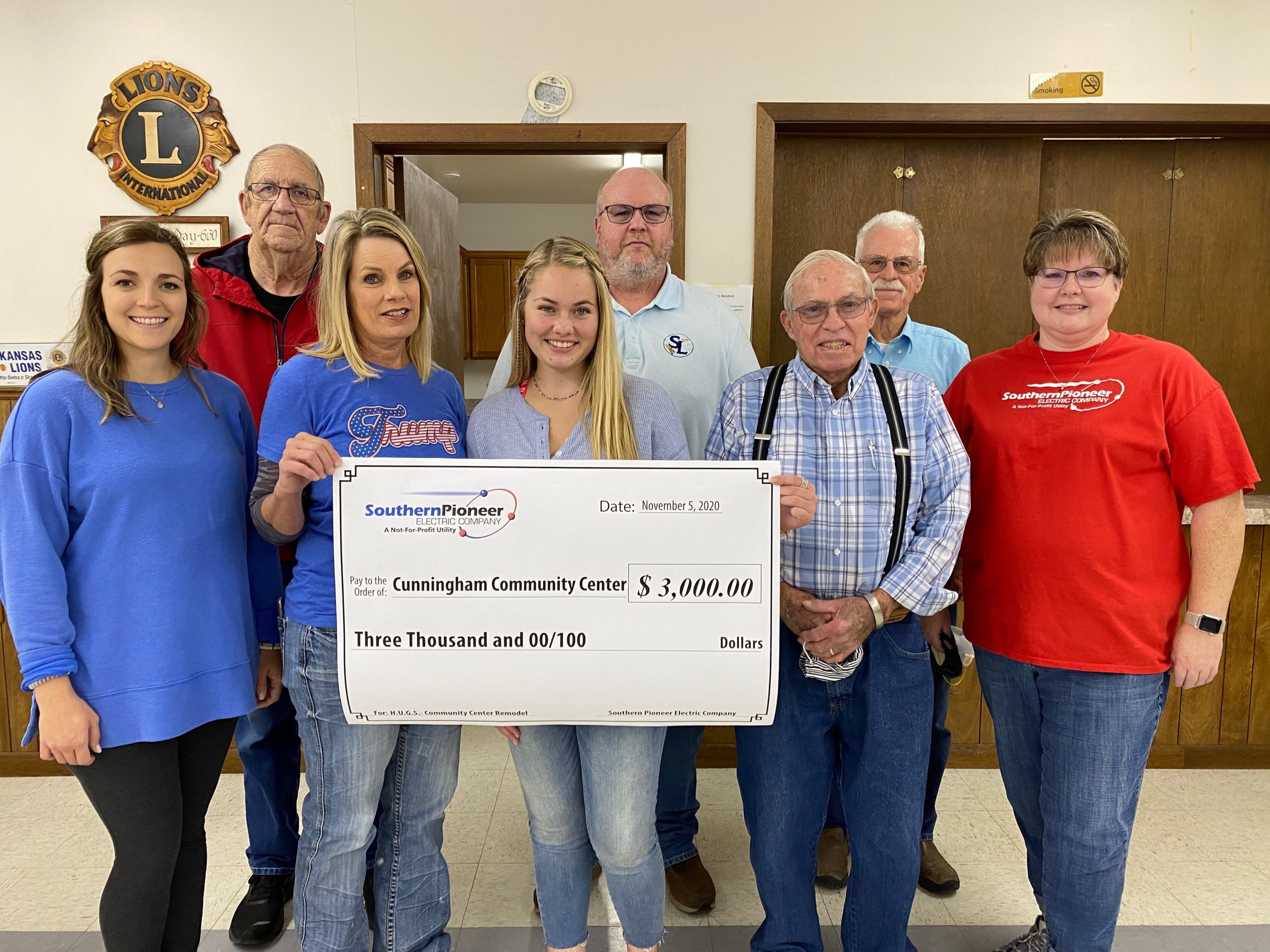 Representatives from Southern Pioneer Electric presented the Cunningham Community Center with a check for $3,000 in grant funds to help cover the cost of its recent kitchen remodel. The grant was presented to the Cunningham Community Center Board of Directors, in front of the community center.
"Businesses that rely on event income are seeing the effects of the pandemic," said Anita Wendt, vice president of energy services and H.U.G.S. team member. "With this grant, The Cunningham Community Center will be able to recoup some of the income that has been lost pay for the remodel."
The community center is booked for events, including birthdays, anniversaries, business meetings and various gatherings of local organizations. The center feels the kitchen remodel is essential in helping update the aesthetic and efficiency of the space. Events are expected to resume and increase moving into the holiday season.
"On behalf of the Board of Directors for the Cunningham Community Center we are very grateful to receive this H.U.G.S. grant to keep our community center updated for everyone to use and be proud of," said Jack Crick, president of the Cunningham Community Center board.
Funds for the H.U.G.S. program are generated through recycled scrap materials taken out of service due to repair or rebuild. As funds are collected, Southern Pioneer Electric puts those funds towards grants for organizations with community-focused projects.
Southern Pioneer Electric Company, a wholly-owned subsidiary of Pioneer Electric Cooperative, is headquartered out of Ulysses, Kansas. Southern Pioneer Electric Company has local offices in Liberal and Medicine Lodge, Kansas. Southern Pioneer Electric Company serves approximately 17,200 customers and operates in 10 counties and 34 communities. Southern Pioneer Electric Company's service territory stretches east from Liberal to Medicine Lodge and north to Kingman and back west to Greensburg, Kansas. Southern Pioneer Electric Company is dedicated to providing customers with safe and reliable electric service. For more information about the HUGS program, please contact Vice President of Energy Services, Anita Wendt. (Phone: 620.424.5271 and E-mail: awendt@pioneerelectric.coop