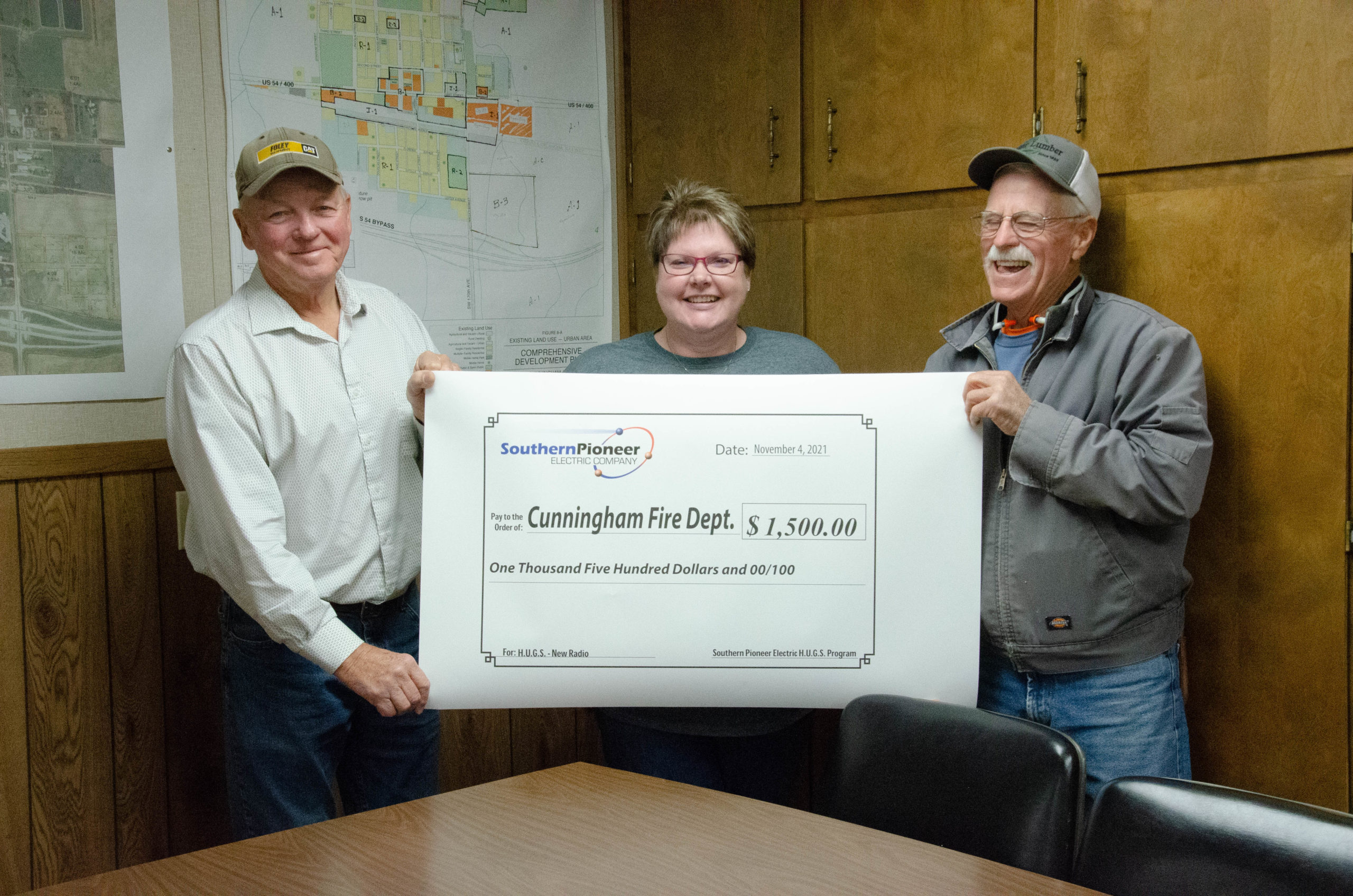 Southern Pioneer Electric presented the Cunningham Fire Department with $1,500 in H.U.G.S. (Helping Us Give to Society) grant on November 4, 2021. The fire department will use the money to purchase a Motorola APX 900 7/800 MHz handheld radio compatible with the Kansas State 7/800 MHz radio system for use during mutual aid and fire calls.
"Cell phones work, but this radio will make it easier," said Harold Stark, Cunningham fire chief. "Because we provide mutual aid assistance to other counties, we wanted something that would work no matter where we are called to assist."
The new portable radio can be used in any of the department's three tanker trucks. The department says the radio will aid in communicating while locating water sources during emergencies.
"The addition of this radio will be a huge benefit to the emergency responders," said Ruby Terrazas, energy services coordinator for Southern Pioneer Electric and H.UG.S. team member. "They will be able to relay information quickly and receive orders in a timely manner."
Southern Pioneer Electric's H.U.G.S. grants are available to projects that focus on improving the communities within the utility's service territory. An online application, and additional information about the program, can be found online at www.southpioneer.net.
Southern Pioneer Electric Company, a wholly-owned subsidiary of Pioneer Electric Cooperative, is headquartered out of Ulysses, Kansas. Southern Pioneer Electric Company has local offices in Liberal and Medicine Lodge, Kansas. Southern Pioneer Electric Company serves approximately 17,200 customers and operates in 10 counties and 34 communities. Southern Pioneer Electric Company's service territory stretches east from Liberal to Medicine Lodge and north to Kingman and back west to Greensburg, Kansas. Southern Pioneer Electric Company is dedicated to providing customers with safe and reliable electric service. For more information about the HUGS program, please contact Vice President of Energy Services, Anita Wendt. (Phone: 620.424.5271 and E-mail: awendt@pioneerelectric.coop).